6 Subtle Signs That Home Nursing May be Needed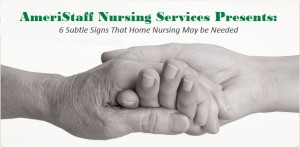 The holiday season brings families together more than any other time of the year. While it is a great time to catch up with far-flung relatives, it is also a key opportunity to monitor the elderly ones in your life.
As eyesight diminishes, mobility falters or memory fades, it is difficult admit you may need help, especially when it comes to personal care needs. Couple this with a fear of losing your independence and it isn't hard to imagine why many seniors keep their needs to themselves. This is why watching for signs that could indicate home care is needed often falls to family, friends, or advisers.
This holiday, if there is a frail senior in your life that you suspect may be hiding a home nursing need, take note of the following:
Has there been a noticeable weight loss?
Have personal hygiene and general appearance been deteriorating?
Is the home no longer being neatly maintained?
Does the senior seem safe in the home and in good spirits?
Is the senior having increased difficulty getting around?
Has the senior been exhibiting forgetfulness or inappropriate behavior?
If you notice any of the above, please call our company AmeriStaff Nursing Services at (248) 288-2270for a free home care consultation. We have been Michigan's most trusted name in home nursing for over 36 years. We offer for professional, compassionate nurses who can come into the home and care for your loved one a few hours a week up to 24 hours a day. We will be happy to customize a plan for their unique needs and budget, as well as discuss the needs of that senior with your family. While aging can bring new challenges, AmeriStaff Nursing Services is here to assist your family and help your loved ones thrive in their golden years.