Detroit Catholic Central partners with AmeriStaff Nursing Services to start School Year as Scheduled
High School Administrators and Nursing Services Company work together to Keep Students and Faculty Safe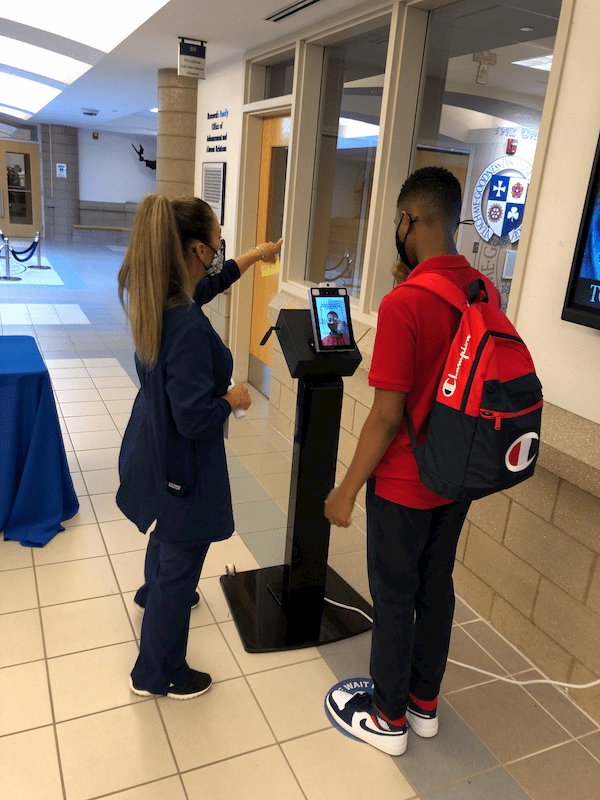 NOVI, MI (8/17/2020) — While many school districts have just submitted their plan to reopen, Detroit Catholic Central (CC) has been ahead of the curve in preparation and planning. As a result, students reported to their first day of school on Monday, August 17. The Catholic Central COVID Committee (C4) established numerous sub-committees to focus their efforts on specific challenges, and the entire group worked diligently all summer to reopen the school on time. One of the tools the group utilized is the "Return to School Roadmap" published by Governor Gretchen Whitmer's COVID-19 Task Force on Education Return to School Advisory Council.
Part of the plan to return to in-person instruction was the hiring of a school nurse, so in late July, CC contacted AmeriStaff Nursing Services for assistance in establishing their safety protocol. After careful vetting, CC chose to partner with AmeriStaff Nursing Services.
"AmeriStaff impressed us with their professionalism and expertise," stated Mitch Hancock, Dean of Students and Health and Safety Committee Chair at Catholic Central. "When businesses started to reopen in early June, they had the initiative to implement a screening service for several companies in the community. Right out of the gate they provided insight and knowledge that our committee found very helpful. The presence of their nurses on site will be invaluable for us in communicating with our families and ensuring the safest possible environment for our students and staff."
Ameristaff Nursing Services is an established home care company that updated their business model to include assisting organizations with nursing and screening services during the first wave of the pandemic.
"AmeriStaff is committed to put to work its years of wellness experience and make returning back to school a safe proposition for both students and faculty at Detroit Catholic Central," states Greg Jamian, AmeriCare Medical's President and CEO. "Following strict CDC guidelines, our mitigation strategies, in collaboration with the school's administration, will help assist with re-entry back to classroom learning for CC students."
Detroit Catholic Central High School is an all-boys college preparatory school founded in 1928 by the Basilian Fathers. Catholic Central is rooted in the motto "Teach me Goodness, Discipline, and Knowledge" and sends an average of 99% of its graduates to college. CC is located on more than 120 acres in Novi, MI, and draws students from the entire Metro Detroit region. Catholic Central prides itself on its spiritual environment, its excellent academics, and its students' passion for extracurricular activities. The symbol of Detroit Catholic Central is the Shamrock, and its colors are Royal Blue and White in honor of Mary, Alma Mater. More information can be found at www.catholiccentral.net.
Since 1980, AmeriCare Medical, Inc. has provided integrated health care services to hospitals, assisted care facilities and private homes throughout Michigan. AmeriCare Medical, Inc. is the parent company of AmeriStaff Nursing Services, Sun Medical Equipment and Rx iV Pharmacy, making it a one stop shop for patients and all of their home healthcare needs. For more information visit: www.americaremedical.com.
# # # #