How Do You Know When Homecare is Needed for Your Aging Parent?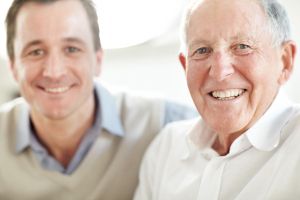 From Men's Health Week to Father's Day, the month of June celebrates men. It's an opportunity for us to step back and reflect on the men in our lives, particularly, our fathers, who have provided advice, nurturing, help and love for as long as we can remember.
This month provides a key opportunity to take a closer look at the signs that may indicate that homecare is be needed for your loved one. Here are a few:
Slips and Falls
Over the age of 65, falls are the leading causes of injuries or death, and the majority of these falls happen within the home. If your parent has mobility issues, takes multiple medications, or lives alone, the risk for falling is even higher. If you have concerns about your Father's ability to get around safely, it is best to consult a home healthcare professional that can identify dangers of slips and falls in the home, and can also recommend and assist with exercises that can improve strength and coordination.
Depression
Is Dad losing interest in activities he once enjoyed, or do you notice changes in appetite, weight, sleep patterns or overall attitude? These are common signs that may be attributed to depression among the elderly. Here are some other signs to look for:
Worries or anxiety
Irritability
Slowed movement or speech
Neglecting personal care (skipping meals, neglecting personal hygiene)
Staying indoors can be particularly difficult when battling depression. AmeriStaff Nursing Services provides homecare and private duty nurses that will work with your Father to ensure that his desire to enjoy the outdoors is paired with his mobility.
Inability to Lead an Active Lifestyle
It's important to make sure that your Father is staying as physically active as possible, while eating a balanced diet and maintaining a healthy weight. As you grow older, an active lifestyle is important, but aches, pains and injuries could be preventing physical activity. If your parent is struggling with mobility or activities of daily living, you may want to consider homecare assistance.
Memory Problems
How do you know when Dad's "senior moment" or memory loss should be a concern? If you are at the point where you are asking yourself this very question, it is worth exploring. Here are some additional signs to look for:
Repeating the same questions
Mixing up or forgetting common words
Some of these signs are prevalent in your aging parent, but you ask yourself how you will manage take care of Dad while juggling the demands in your own life. There comes a point where these demands outweigh the financial, logistical and emotional resources available, and this is where AmeriStaff Nursing Services comes in.
For over thirty-four years, we have been the Michigan leader for home healthcare, customizing plans for thousands of families with unique situations and budgets. After all, our fathers have looked after us for so many years…isn't it time we do the same?
Call us today at 248-288-2270 for a free home care consultation.