Letter of Thanks from Patrick J. Devlin
We were honored to receive this letter from Patrick J. Devlin about the great care our nurses gave his mother.
"On behalf of myself, Carla and the entire Devlin family, we would like to thank you and your staff for an incredible caregiving experienerce that we continue to have with AmeriStaff. From the onset, they have handled our account with endless hours of staffing, scheduling and everything in between – like doorbell locators!"
At AmeriCare Medical, Inc. and AmeriStaff Nursing Services, we are always striving to provide the best homecare and rehabilitation services for you and your loved one.  We love to hear your stories of recovery and how we helped, so feel free to send them to mmayuiers@americaremedical.com
Special thanks to our stellar nurses Terri Francis, Sally Gribben, Martina, Coffey, Carla Scott and Laura Manning!
Click below to read the letter. Thank you again Mr. Devlin for your kind words: we loved taking care of your mother!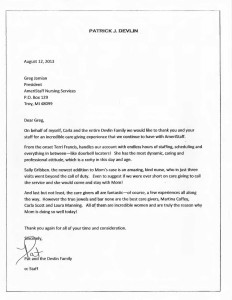 12