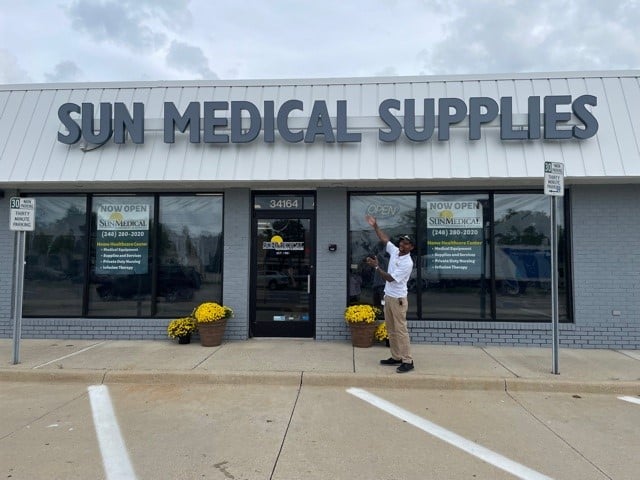 Sun Medical Equipment and Supply Company awarded CHAP Accreditation
CHAP Accreditation demonstrates that Sun Medical Equipment and Supply Company meets the industry's highest nationally recognized standards. The rigorous evaluation by CHAP focuses on structure and function, quality of services and products, human and financial resources and long-term viability. Simply stated, adherence to CHAP's standards leads to better quality care.
"By achieving CHAP Accreditation, Sun Medical Equipment and Supply Company of Birmingham, MI has shown a commitment to excellence in care," said Nathan DeGodt, CHAP President & CEO. "We are excited to begin our partnership with Sun Medical by offering support in its commitment to providing quality care and continuous improvement."
Sun Medical provides a wide variety of home medical equipment products, supplies and services to patients and their families in the Birmingham and Bloomfield surrounding areas. Sun Medical is part of the AmeriCare Medical Inc. family of home medical related services in S.E. Michigan. Greg Jamian, President/CEO for Sun Medical Inc. said, "Our dedicated team worked tirelessly to make our new store in Birmingham a great success. While Sun Medical has always been accredited, through AmeriCare, we felt it very important that our new store receive the same accreditation.
Sun Medical extends a high level of personalized care, compliance and customer service with a knowledgeable and friendly healthcare team, who truly care that their clients medical needs are achieved. "Our commitment to our patients and customers are demonstrated each and every day when we open our doors" said Ryan Donnellon, Store Manager
CHAP is an independent, not-for-profit, accrediting body for community-based health care organizations. Through "deeming authority" granted by the Centers for Medicare and Medicaid Services (CMS), CHAP has the regulatory authority to survey organizations providing home medical equipment services, to determine if they meet the highest standards of community-based care.
AmeriCare Medical, Inc. is a locally owned and operated company that provides integrated health care solutions to hospitals, assisted care facilities and private homes throughout Michigan. AmeriCare Medical, Inc. has five divisions that include: AmeriStaff Nursing Services, Sun Medical Equipment, Rx iV Infusion Pharmacy and Oak Bridge Case Management. AmeriCare Medical provides dignity and "peace of mind" for the family and patient by offering the convenience of an "all-inclusive experience" for all your home healthcare needs.
For more information visit: https://americaremedical.com