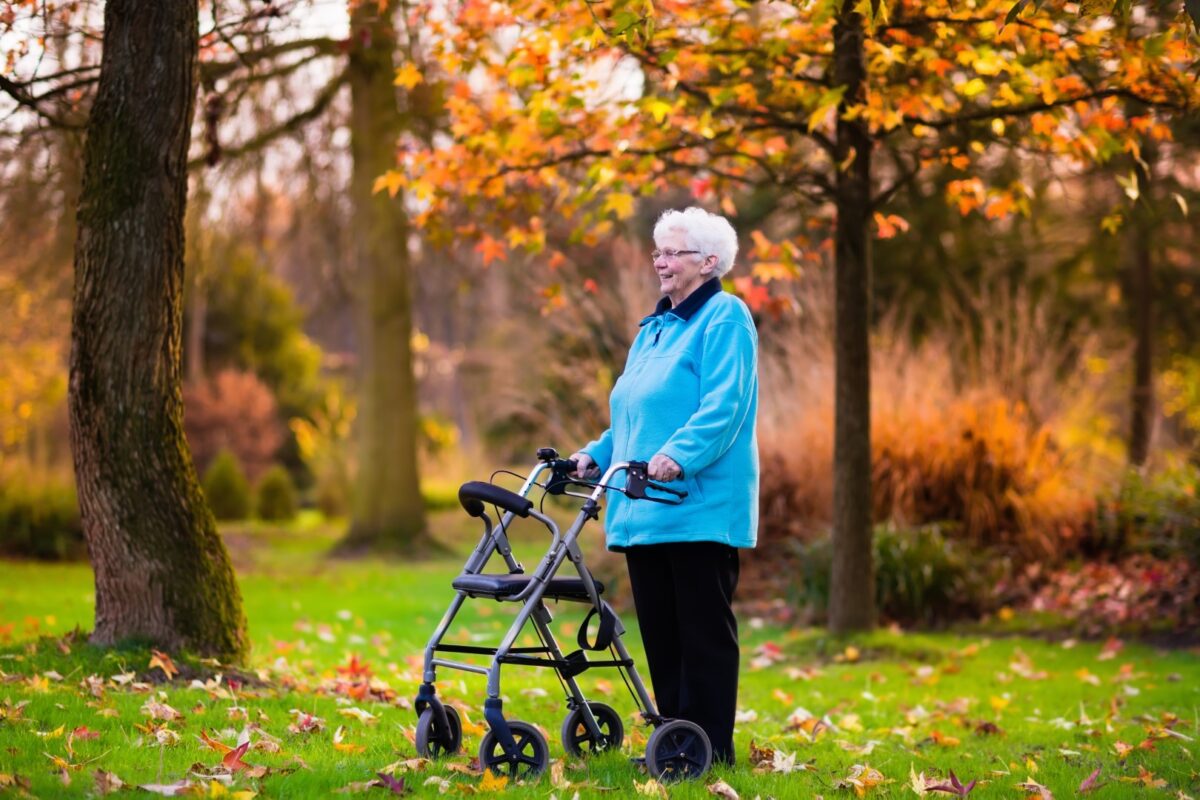 What is a Rollator and What are the Benefits?
Most people know what a walker is. They know that a walker can greatly help seniors and others with mobility issues with walking. Walkers have four legs that all stay in contact with the ground, even if the front two legs are wheels. Because at least two of the legs grip the ground when they're in contact with it, walkers offer stable support when moving around. So, if you have balance issues, weakness while standing, or simply need a firm support to help you walk, go with a walker.
For those who can walk well on their own but need a bit of help with balance and stability, a rollator is the perfect choice. Unlike a walker, a rollator allows you to walk with a normal gait and a quicker pace. Rollators have wheels on each leg allowing for free movement rolling forward without having to lift the walker off the ground. You'll often see people putting tennis balls on the back two legs of a walker to help it slide forward easier with its front two wheels. That makes walkers better for short or medium distances, while a rollator is better for medium to long distances because they are so much easier to walk with.
Users shouldn't rely on rollators for complete stability, as they can obviously roll forward. However, rollators can be great for those with weak grip or weak arms as you're not using them to rely on keeping yourself up-right and walking. However, users of rollators do need to be able steer their rollator as well as operate the hand brakes as needed. A great feature about most rollators is that the handlebars can be adjusted to your height and arm requirements which is critical to both functionality and safety. Unlike walkers that often cause their users to walk hunched over, rollators allow for walking upright.
When you need a break from walking, rollators also offer a portable seat so you can sit down wherever you are. Many rollators even include a back support to use while sitting. Plus, rollators also offer a basket or bag under the seat giving you a place to carry necessities, replace your purse, or help you carry groceries. If you are on oxygen, a rollator gives you a perfect place to help carry your oxygen tanks and other supplies. As an added benefit, like walkers, most rollators can fold up for easy storage and travel.
According to medicare.org, "Medicare insurance provides coverage for rollators in most all cases. Rollators are included under Medicare's list of covered durable medical equipment… For a rollator to be paid for under Medicare coverage, the equipment must be deemed medically necessary… If a diagnosed condition requires that you have a walking aid, this must be determined and documented by your physician that is approved by Medicare. After their determination, they will provide you with a prescription for a rollator, which will allow you to qualify for coverage through your insurance plan."
One of our most popular models is the Nitro Aluminum Rollator from Drive Medical. As Drive states: "Travel in style with the sleek design of the Euro-style Nitro Rollator.  This rolling walker is cleverly engineered with a comfortable seat, convenient storage bag, adjustable height handles, and large 10" front casters for seamless rolling.  With the brake cables inside the lightweight frame, the rollator walker provides a safe experience when you're out and about.  With the ability to fold side-by-side, the Nitro Rollator is easily transported and stored."
Features of the Nitro Aluminum Rollator include:
Adjustable contoured backrest
Cross-brace design for added safety
Clip hold and side-by-side folding
Large and convenient storage bag included
Weight capacity: 300 lbs.
Weighs only 17.5 lbs., easy-to-transport
Stop by Sun Medical Equipment & Supplies to get your rollator today and give you or your loved one the peace-of-mind knowing they can walk easily, freely, and safely. Visit https://www.sunmedicalstore.com/ or give us a call at 248-280-2020.